The Laurels of Summit Ridge Staff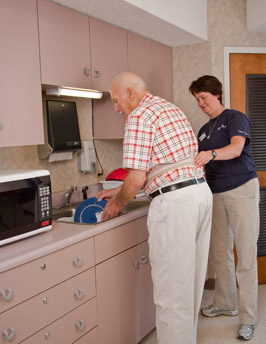 What differentiates one skilled nursing & rehabilitation center from another? The answer is... the people who work and reside there! The people set the tone, the atmosphere, and the expectations. At The Laurels of Summit Ridge, we take great pride in ensuring that everyone feels like part of our family, and that they are treated as special "guests" in our home.
The Laurels of Summit Ridge employs a team of highly qualified medical professionals, including a Medical Director, Registered Nurses, Restorative Care Nurses, a Wound Care Nurse, state tested Certified Nursing Assistants, Physical Therapists, Occupational Therapists, and a Speech Therapist. Our on-site Rehab, Dietary, Social Work, and Activities departments provide personalized and compassionate care to each guest. From the moment you walk through the front doors, the warmth and caring of the staff will begin to gain your trust and confidence, as they strive to exceed your expectations.
Unlike other facilities that use "contracted" staff members, each member of the team at The Laurels of Summit Ridge is directly employed, not "contracted". Each Team Member takes great pride in portraying "The Laurel Way of Caring", as they strive for excellence in providing only the highest standard of care and services to every guest, and to every family member and visitor. Come on in! Visit a while! Let us show you our very best... let us show you The Laurel Way.
Thomas Dula, Administrator
Thomas E. Dula III has been the Administrator at Laurels of Summit Ridge since November 2016 and has 30 years of experience in Healthcare. Tom started out as an Admissions Director and along his career path had the opportunity to be Marketing Director, Alzheimer's Unit Manager, Administrator and Executive Director of a Retirement Community.

Prior to moving to Asheville, Tom was the Administrator of a 180 Bed Building in Boca Raton, Florida. Tom was also the Administrator at The Laurels of Hudsonville in Michigan for 8 years prior to moving to Florida. So working at The Laurels of Summit Ridge is like coming home.

Tom focuses on quality care, customer service and taking care of the employees.
Deana Blackwelder, Director of Nursing
Deana Blackwelder, Director of Nursing Services. Deana is a native to Western North Carolina. She has been an RN for 19 years, with 18 years experience in nursing management, 13 years experience in long term care where she held roles in SDC, MDS, RN Supervisor, ADON, DON. Joined the Laurel Team in January 2018. Married to Chad Blackwelder with 5 children; Jared, Alyson, Trenton, Kirstyn and Grayson. Deana enjoys reading and spending time with her family.
, Director of Marketing
Charles Simonetti, Rehabilitation Services Director
Charles Simonetti has a Master of Science in Exercise Physiology and an Associate Degree in Physical Therapy. Charles spent 15 years as a Physical Therapist Assistant and has 8 years of management experience in Skilled Nursing Facilities. He is also wound care and ventilator Certified. Charles joined The Laurels of Summit Ridge in 2012.